Main Products
Rokukshingan (cardiotonic)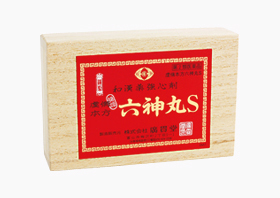 Rokukshingan was first made in China around 400 years ago. Using the traditional method as a starting point, Kokando finely mixes valuable animal parts and carefully selected herbs imported from overseas. Under the catch-phase "great peace of mind from a small drop," users have taken to the product due to its superior effectiveness as a cardiotonic and agelessness. The product has been widely used since the company was founded.
Yutanen (digestive medicine)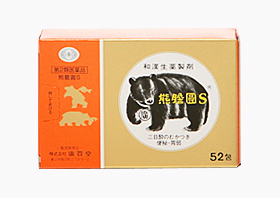 Yutanen has a 900-year history in China. Kokando's yutanen is a mixture of various crude drugs such as goldthread (coptis japonica), rhubarb, turmeric, and animal gallbladder and makes use of Kokando's unique production method to form sheets. It is beneficial for digestion, breathing, metabolism, and secretion, and is commonly used by households as an oriental digestive medicine.
Kokando's akadama-hara-kusuri (anti-diarrheal agent)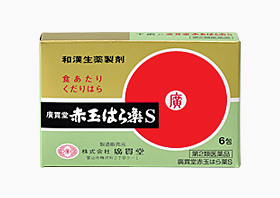 Kokando's akadama-hara-kusuri is an effective medicine developed in Japan that is gentle on the body and is suitable for Japanese. It not only relieves pain and cures diarrhea, but also restores the normal function of the digestive system. The medicine is also effective for irritable bowel syndrome, stomach pains and diarrhea caused by the stress felt by many modern people.
Kokando – Kakkonto (oral liquid medicine)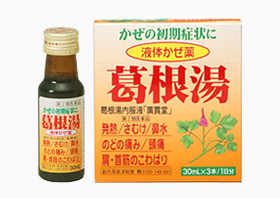 Kokando – Kakkonto is an easy-to-drink oral liquid medicine that hastens recoveries from a cold. Since the product contains neither antihistamines nor caffeine, it does not cause drowsiness and makes it possible to sleep soundly.
Karyu Neoshinji S (combination cold remedy)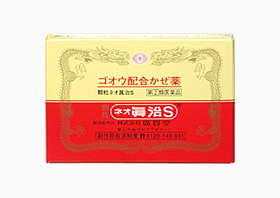 Karyu Neoshinji S is a combination cold remedy prepared from crude drugs that relieve 11 of the unpleasant symptoms of a cold. The product is produced using acetaminophen (a compound that lowers fevers and relieves pain), ethenzamide, the antihistamine triprolidine hydrochloride hydrate, and the crude drugs bezoar and carrot.
Kokando – Panawan (oriental crude drug nutritional suppliment)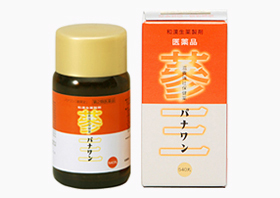 Kokando – Panawan is a nutritional supplement produced mainly from carrot and other crude drug compounds and is recommended for people with frail constitutions, weak digestive systems, or who are sensitive to the cold. When talking about the present time, the terms age of gluttony, high-stress society, and graying society are often used; therefore, it is becoming more important to actively maintain one's health in order to live a pleasant life.