"Use-First Pay-Later" Business Model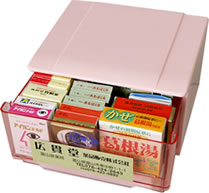 One characteristic of Etchu medicines is the "use-first pay-later" business model– first get well, then pay. This is a unique sales method in which customers are initially provided with medicines and then pay for the amount used the next time a sales staff visits their homes. Etchu medicines have spread throughout Japan on account of this unique sales method.
Since one never knows what medicines will be necessary when, it is important to have them near at hand at all times. In an age when it is difficult for the general public to purchase all the types of medicines they may need, this way of selling medicines has become very popular and not only creates a relationship of trust between customer and the company, but also generates ongoing business. With a desire to help people, Kokando has been providing pay-for-use medicines for more than 300 years and is still doing so.
Kokando wants to spread the "use-first pay-later" method and concept, which was born in Toyama, throughout not only Japan, but also the world. The method has already been introduced into Mongolia, where it has received high praise. The World Health Organization has also shown an interest in this traditional sales system. Kokando will increase the understanding of this system and will work to contribute to self-medication for people throughout the world.