Reliability Assurance System

Reliability Assurance Office
The three officials responsible for production and sales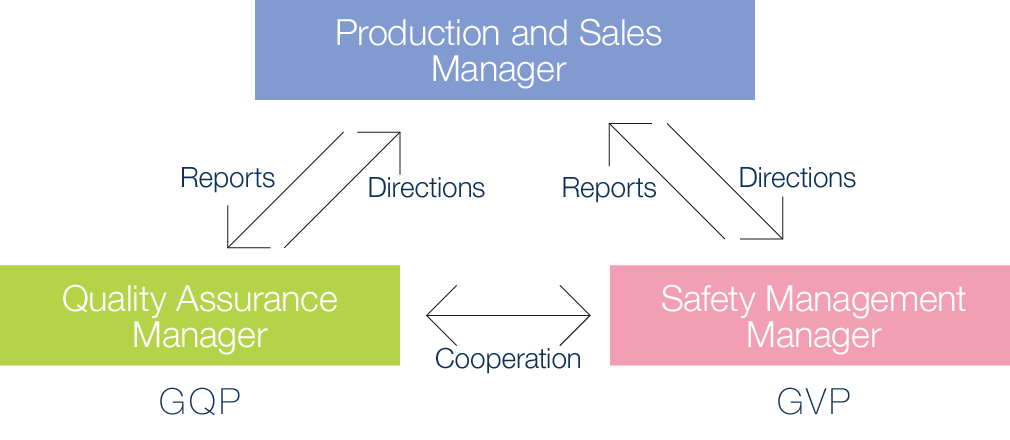 The revised Pharmaceutical Affairs Law, which came into effect in April 2005, requires producers and distributors to obtain approval and be responsible for their operations. The Pharmaceutical Affairs Law stipulates this to ensure the effectiveness, safety, quality etc. of products, including medicines and quasi-drugs.
As a producer and distributor, Kokando established a Reliability Assurance Office in the same year and created 3 positions responsible for production and sales – Production and Sales Manager, Quality Assurance Manager, and the Safety Management Manager. The Company also undertakes quality assurance through the Quality Assurance Group and manages post-production/sales safety through the Safety Management Group.
In addition, a Pharmaceutical Affairs Group was established in April 2008 to handle pharmaceutical administration issues.
Quality assurance operations
Based on the Good Quality Practice (GQP) Ministerial Order, Kokando undertakes product quality management operations, which include supervising shipments in order to ensure the quality of over-the-counter medicines and quasi-drugs manufactured and sold by the Company, overseeing manufacturers, processing data on topics such as quality, handling issues such as poor quality, and conducting recalls (if necessary).
In addition, the Company handles operations such as managing the necessary production and sales approvals in order to produce and distribute medicines and quasi-drugs and responding to administrative requests.
Safety management operations
Based on the Good Vigilance Practice Ministerial Order, Kokando also collects and examines safety management information on over-the-counter medicines and quasi-drugs produced and sold by the Company and implements necessary measures based on the results of the examination. These are collectively referred to as safety assurance operations.
Safety management information refers to information related to the quality, efficacy, and safety of medicines and quasi-drugs, and other information necessary to properly use products.
In particular, safety management operations concern handling related attached material and various disclosure items and reporting on side effects.
Pharmaceutical affairs operations
Recently, along with revisions to the Pharmaceutical Affairs Law, numerous implementation orders, regulations and notifications have been issued. Pharmaceutical affairs operations refer to work related to keeping on top of and responding to these issues.